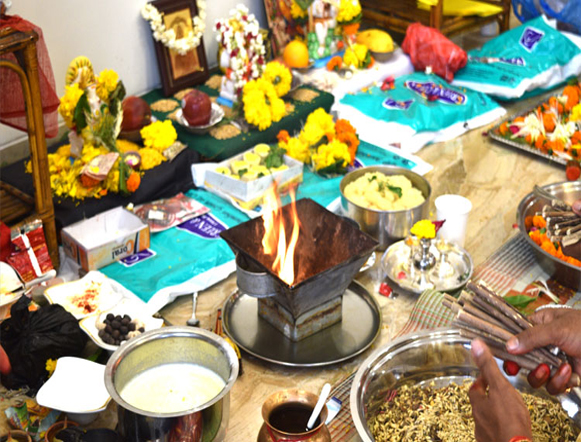 About Gaya Ji (Gaya Dham)
Introduction: Gaya is holy city of India which is known as Gaya Dham, Gayaji Dham, Gaya Keshtriya, Moksha Dham of . As per Gayapuran - Gaya is named after the name of Gayasur the son of the famous Tripurasur, Prabhbati was the name of Gayasur's mother.

Location: Gaya is situated at bank of Falgu river, It's on Longitude - 84.4 to 85.5 Degree towards East, Latitude - 24.5 to 25.10 Degree towards North, Gaya district has boundry Jehanabad in North, Chatra District of Jharkhand in South, Nawada District in East and Aurangabad District in west.

Importance: Gaya was so holy that he had the power to absolve the sins of those who touched him or looked at him; after his death many people have flocked to Gaya to perform Shraddha sacrifices on his body to absolve the sins of their ancestors. Gods and goddesses had promised to live on Gayasur's body after he died, and the hilltop protuberances of Gaya are surrounded by temples to various gods and goddesses.

Pitra Paksha Mela : Pitra Paksha is auspicious days for Pind daan or 7days, 5days, 3days or 1days amawasya with krishana paksh in any month but it can be done all days in year. Pitra Paksh is celebrate in Krishna Paksh of Aswin month.

How to reach: Gaya is well conected from all major city by Indian Railway, Roadways services from Patna, Ranchi, Kolkata, Jamshedpur & Varanasi. Also Indian Airlines is available from Kolkata daily services.

About Bodhgaya : Bodhgaya is situated at bank of Niranjan river, It is distance from 11 Kms from Gaya town. the place where Gautam Buddha attained enlightenment. Bodh Gaya is a religious site and place of pilgrimage associated with the Mahabodhi Temple Complex in Gaya district in the Indian state of Bihar. It is famous for being the place where Gautama Buddha is said to have obtained Enlightenment (Bodhimandala). The place-name, Bodh Gaya, did not come into use until the 18th century CE. Historically, it was known as Uruvela, Sambodhi, Vajrasana or Mahabodhi. The main monastery of Bodh Gaya used to be called the Bodhimanda-vihāra (Pali). Now it is called the Mahabodhi Temple. For Buddhists, Bodh Gaya is the most important of the main four pilgrimage sites related to the life of Gautama Buddha, the other three being Kushinagar, Lumbini, and Sarnath. In 2002, Mahabodhi Temple, located in Bodh Gaya, became a UNESCO World Heritage Site.According to Buddhist traditions, circa 500 BC Prince Gautama Siddhartha, wandering as an ascetic, reached the sylvan banks of the Phalgu, near the city of Gaya. There he sat in meditation under a bodhi tree (Ficus religiosa). After three days and three nights of meditation, Siddhartha claimed to have attained enlightenment and insight, and the answers that he had sought. He then spent seven weeks at seven different spots in the vicinity meditating and considering his experience. After seven weeks, he travelled to Sarnath, where he began teaching Buddhism.
Gaya Ji(Gaya Dham) :When actually Lord Rama Chandra came to Gaya to offer Pinda Daan to his Father Dashratha?It is believed that Rama belonged to Treta Yuga,This yuga covered 12,96,000 mortal years.After Treta, came Dwapar yuga covering 8,64,000 mortal years.This is the kali yuga.The period is to cover another 4,32,000 mortal years.In such a situationRama came to Gaya for offering oblation to his deceased father more than 12 lakh years ago. And the pinddaan in GayaJi practice for the salvation of a soul was in vogue since long and still continues to be an integral part of Hindumythology. Gaya finds mention in the great epics, Ramayana and Mahabharata. In Mahabharat, the place has been identified as Gayapuri. Gaya derives its name from the mythological demon Gayasur (which literally means Gaya the holy demon), demon (asur, a Sanskrit word) and Gaya. Over its history dating millennia, the word asur got deleted and the name Gaya remained in currency. A study of Gaya perhaps Cannot be completed without a refernce to the Gaya Mahatmya.In Gaya Mahatmya,And Gaya Mahatmya also speaks about the powerful demon Gayasur and how Lord Vishnu in his mace bearing form had persuaded the demon motionless with his body and how Lord Vishnu killed Gayasur, the holy demon by using the pressure of his foot over him and forming the panch kosi Gaya keshetra,the most pious land on earth,And Gayasur was the creation of Brahma and his body with his head in the north covers the area from the bodhgaya on the south to prethshilla on the north, and after his death many people have flocked to Gaya to perform shraddha or pinddaan sacrifices on his body to absolve the sins of their ancestors. And It was said that the Gayasura's body would continue to be known as Gaya Kshetra.It is believed that this place has been blessed by purificatory powers.Hindus traditionally come here to perform pind daan to honour their parents or ancestors and people also participate in the massive get together who perform the final rites of their departed family members to freed from the agonies of Hell and sent to Heaven.